Christmas Shopping Alert for the Wildlife Lovers!
Wildlife-Themed Items Available Through Wildlife Rehabilitation and Release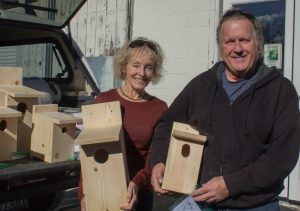 What: Wildlife Rehabilitation and Release's Holiday Shopping Spree
Where: WR&R Intake Center, 799 Maltman Dr – in the alley behind Walkers Office Supplies – Across from Taco Bell in the Brunswick Basin, Grass Valley
When: Sunday – December 10 from 10:00 – 3:00
For More Information: cawildlife911.org
Wildlife-themed merchandise will be for sale Sunday, December 10 from 10:00 am – 3:00 pm at Wildlife Rehabilitation and Release's Intake Center in Grass Valley. Merchandise includes wonderful earrings in the shapes of native wildlife and birds, hand-crafted nesting boxes, t-shirts, WR&R's popular calendar and other gifts appreciated by wildlife lovers. And for the person who has everything, consider purchasing an "adoption" certificate for one of the wildlife ambassadors. The purchase of a certificate will feed one of the wildlife ambassadors for a month or 6 months.
The nest boxes were hand crafted especially for WR&R and are becoming more and more important as trees die and are cut down. Put one or two up to replace the nesting habitat for songbirds, owls, or flying squirrels. All proceeds from these sales will go to supporting the continued care of injured or orphaned native wildlife.