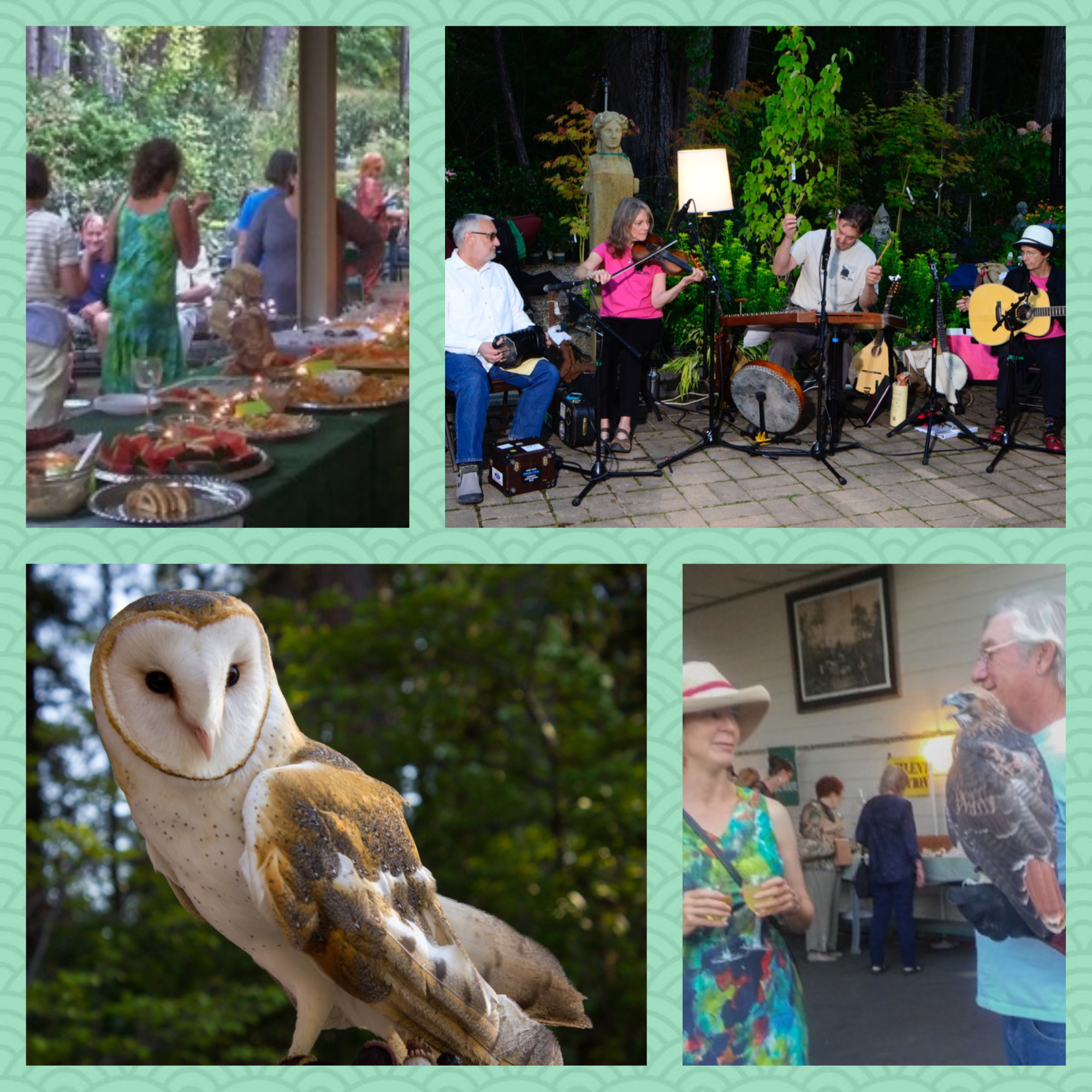 Special thanks to 
Prospector's Nursery
 for providing a gorgeous venue; 
Three Times Through
for the delightful music; 
Lucchesi Vineyards
 for their fabulous wines & 
Wild Birds Unlimited
 for their ongoing support! Additionally, the community card programs at 
SPD & Holiday Markets
 contributed major funding for the wonderful food, as did a gift from 
BriarPatch Food Co-op
. Thanks to
Summer Thymes
for their assistance with food as well.  Special thanks to
Yubanet 
and to 
The Union Newspaper 
for their advertising support.
---
Prizes, auction items and food were also donated by: Abstract; Alta Sierra Wine Shop; Ben Franklin Crafts & Frames; Break Caffè; BriarPatch Food Co-op; Robyn Buciak; Caroline's Coffee; Cranston & Co; Stacy Crummett, local artist; DeMartini's Springhill Pharmacy; Disneyland; Fast & Fit for Women; Flour Garden Bakery; Foothill Florist; Foothill Mercantile; Dr. Rob Avery, For the Love of Pets; Forever Yours Florist; Janet Goodban; Laurel and Eric Gunderson; Great Clips; Grocery Outlet; Rayna Jensen; Betsy Graham; Karen Johnston, Graphic Designer; Karen Koskey; Lefty's Grill; Lisa Lang, local artist; Marie Luchini; Lisa Mandelbaum, L.Ac; Mimi's Salon; Joan Morton; Bev Myers; Mother Lode Veterinary Hospital – Dr. Cameron Thompson, Drs. Mario & Molly Dinucci & Dr. Tim & Erin Van Geem;  Dick Mooney, photographer; Mountain Bounty Farm; Dr. Susan Murphy – Four Paws Animal Clinic; New Moon Cafe; Joan Pancharian; Annette Purther, artist; Purveyors Pantry; Raptor Adventures; Scraps Dog Bakery; Starbucks Coffee; SRC Party Rentals& Supplies; The Earth Store; The Fur Traders;  The Gray Goose; Volz Brothers Auto Repair; Barbara Jenness, Wheyward Girl Creamery; Bruce & Mary Kirk, Wild Birds Unlimited;  Wolf Mountain Day Spa; and Cynthia Yaguda, OMD LAC
---
A big thanks to WR&R planning committee:  Eileen Mello, Dale-Ann Cusson, Marie Luchini, Joan Pancharian, Joan Morton, Laurel Gunderson, Janet Goodban, Karen Koskey, Bernell Scott, Betsy Graham, Bev Myers, Robyn Buciak, and Ann Westling.
---
And a huge thanks to all the WR&R volunteers who worked their tails off to create a wonderful evening for all! Becky Ahmadi, Lisa Babin, Sandy Beach, Katie Bishop and family, Lindsay Brook, Joanne Brown, Jennifer Callas, Chuck Carroll, Jamie Cassingham, Hannah Cassingham, Dale-Ann Cusson, Barbara Dean, Beth Dekker,  Claudia Ellis,  Paula Elliot, Gwen Fissell, Donna Foddrell,  Janet Goodban, Betsy Graham, Eric and Laurel Gunderson,  Rayna Jensen, Katie King, Joe King, Randy Koerber, Karen Koskey, Marie Luchini, Carol McFarling, Adrianna McFarling, Katrina McFarling, Eileen Mello, Bev Myers, Isabella Noll, Joan and Ray Pancharian, Bruce Reinhardt, Kim Rivas,  Nancy Romano, Isobel Roy, Molly Roy, Lauren Satterlee, Cheryll Schutt, Bernell Scott, Akasha Smith, Sally Smith,  Paul Tebbel, Cynethia Van  Kleek, Susan Warner, and Jennifer Weir. (If I forgot anyone, I apologize!)